Neverwinter has entered open beta, which seems like a strange thing for a free-to-play MMORPG to do. In fact, it seems like what Valve is doing with DOTA 2. I mean really, you can stay in open beta forever if you're a free-to-play because that's essentially what you are, constantly evolving. Any MMORPG should be constantly evolving. It's strange though when you see how obvious games like World of Warcraft are at distributing their content. "Pay big bucks now for an expansion pack and this will get you going. In a month or so, we'll be done with some more content that should have been in this expansion pack and we'll slowly release it." It's not inherently bad, in fact it paces some of the less employed gamers from spending entirely too much time playing the game. Rather, it helps pace them from playing too much.
Either way, the image above represents the 30 minutes I've spent trying to play Neverwinter this morning. I probably would have been able to play last night, but I wasn't aware my roommate had gone to sleep so early, normally I'm off the computer before him so I wasn't expecting to patch until today. There are only three servers up for Neverwinter, reinforcing my opinion that anyone who plans an MMORPG is just smart enough to get people to listen to them, but not smart enough to learn from the mistakes of others. In fact, I'd wager that's probably the strongest trend in MMORPGs. Nobody knows how to make them because they refuse to fall into the same mistakes made by others. "Oh, that'll never happen to me, I know what not to do," says the MMORPG dev. Yet every couple of weeks a new MMORPG comes out with the same basic flaws and problems that the current market is experiencing in EVERY SINGLE MMORPG.
I think the most interesting thing about this problem is that it's not that there aren't plenty of examples available for devs to learn from. World of Warcraft is an anomaly. An MMORPG is supposed to be an investment that fails. At least, that's what I'm being lead to believe in the current market. Granted, it seems we're reaching some stability with free-to-play games becoming a mainstay. When I think of all the free-to-play titles I've played and how many people I've seen play them I'm not surprised they work. If less than half of the people buy items that add up to $20 - $30 a month, they're already making a ludicrous amount of money. Especially considering the cost of development on some of these free-to-plays should be rather low considering the content and tech in them.
I feel like I'm rambling off-topic, I wanted to talk about Neverwinter.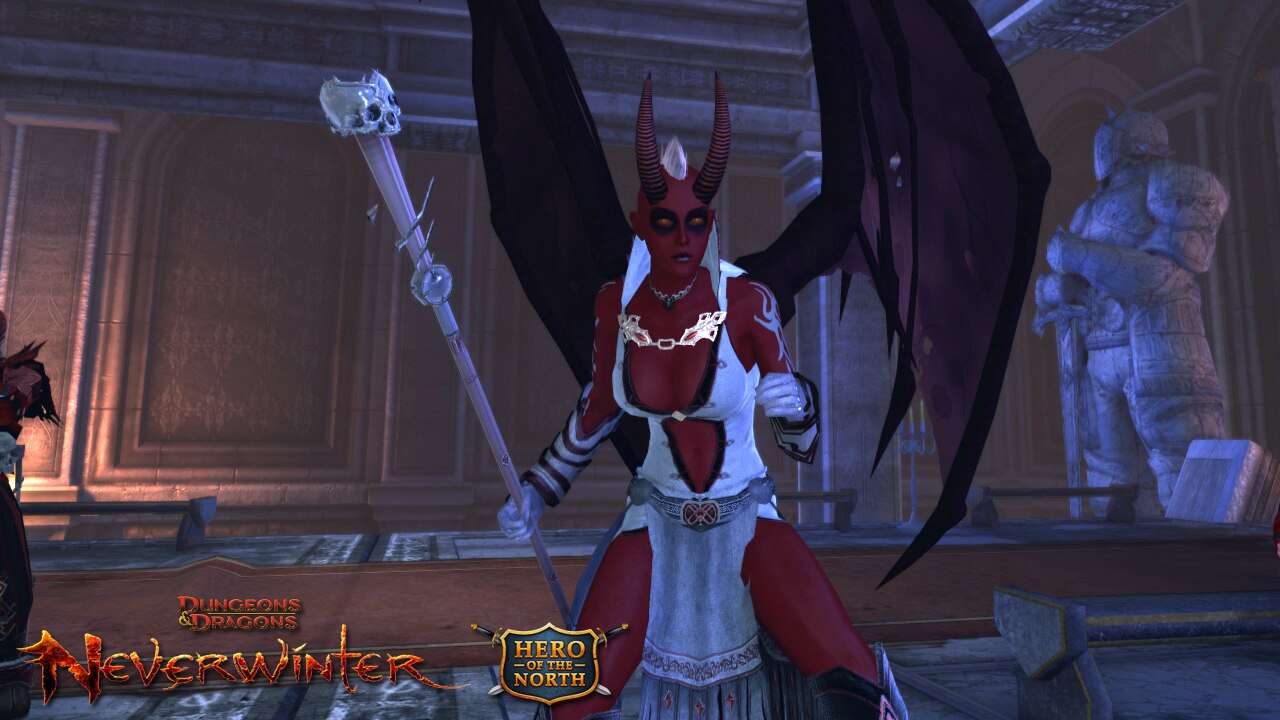 Do you believe that the two screenshots above are from the same game? Hell, the one directly above this text looks only slightly better than World of Warcraft. Graphics aren't everything but we should be sticking inside the current generation of games. Thanks to consoles, that's still a good 7 years back. I'm getting off point though, it looks cool. I know, the above screenshot makes it look crappy, and the queue time in the first picture makes it look like the worst game ever. Hear me out. I've been watching livestreams of closed beta (right? Who allows for streaming of closed beta? Well, considering you could pay to get in, not surprising.) The livestreams were all pretty good. There were still roaming packs of mobs like in SW:TOR and not random single mob pulls like World of Warcraft, Guild Wars 2, or Everquest. We're venturing into MMO 3.0 territory here. Likewise, the combat looked more action oriented. Almost like Guild Wars 2 system but evolved a bit more.
By the way, if you're developing an MMORPG, this is the way to go. Everquest was a one of a kind experience that was absolutely AMAZING when it came out. Nobody wants to sit in a field with their spell book open for 10 minutes while waiting to regenerate mana. It was immersive before, it's miserably boring now. Give me something to do and I'll do it, that's the current trend in video games. Giving me nothing to do and claiming it's something, that's going to get you server mergers and a closure notice from your publisher.
Another thing Neverwinter does that DDO missed the mark in was using the correct world. No offense to Eberron fans, but Neverwinter is more iconic. Not because two games were made out of Forgotten Realms, but because 5 games were made out of Forgotten Realms. Those of you keeping score, off the top of my head, Neverwinter Nights, Neverwinter Nights 2, Baldur's Gate, Balder's Gate 2: Shadows of Amn, and Icewind Dale.
I think it's safe to say, everyone's just searching for Drizzt.